Where You Can See Me + A New Story
Speaking Bones mini-tour and "Collaboration?"
Happy 2023!
A new year brings a sense of optimism, doesn't it? You've got your new goals, resolution lists, piles of books you vow to get through, your pristine Hobonichi (oops, did I just cross over into hipster territory?), your novel file tagging system for Finder (no? Just me?) … and everything feels like it's going to work out. I wish every day felt like that.
(And maybe it will.)
I'm here to announce two big things.
First, I have …
A New Story: "Collaboration?"
"Collaboration?" is a new story for the fiftieth issue of Uncanny Magazine coauthored by Caroline M. Yoachim and myself. I'm so proud to return to its pages.
It's about anti-muses, bored gods, apostrophic robots, ƨnoiɈɔlɘʇɘɿ, literary-flavored wines (good to consume on wine-colored seas), art that requires a bigger brain to understand … and above all, what it means to collaborate.
Worlds pop into existence, composed by clicking keyboards or in spraying foam on waves of thought; tucked away in spells, algorithms, entangled particles, recipes; evoked by waving wands; sketched by twirling ley-line brushes; assembled by spinning quantum mundistructors. They've been doing it for eons.

But recently, there has been a pause.
Writing this story was intense. Caroline and I pushed each other to try things we wouldn't have done otherwise. The result is a very writerly story, as it takes full advantage of the written form to merge medium with message, to craft something that cannot exist apart from its written-ness. Writing it, I understood what Barthes meant by the jouissance of the writerly text.
I love this story so much and hope it delights you, perhaps even tossing a few pebbles into your mind to inspire you to your own collaborations. (All texts are collaborations, not just between the authors, but also between the writer and the reader.)
Also, since this story leans so heavily into the expressive possibilities of the written word, the complex formatting may give screen readers difficulty. We produced an accessible version of the story as well.
Finally, if you want to learn more about the story behind the story, read Tina Connolly's interview of Caroline and me.
Let me know what you think about this tale!
Next, let's talk about my …
Mini Book Tour for
Speaking Bones
The paperback edition of Speaking Bones will be released on January 5 in the UK (from Head of Zeus) and January 31 in the US (from Saga), thereby marking a formal end to the decade+ of my writing life devoted to the Dandelion Dynasty.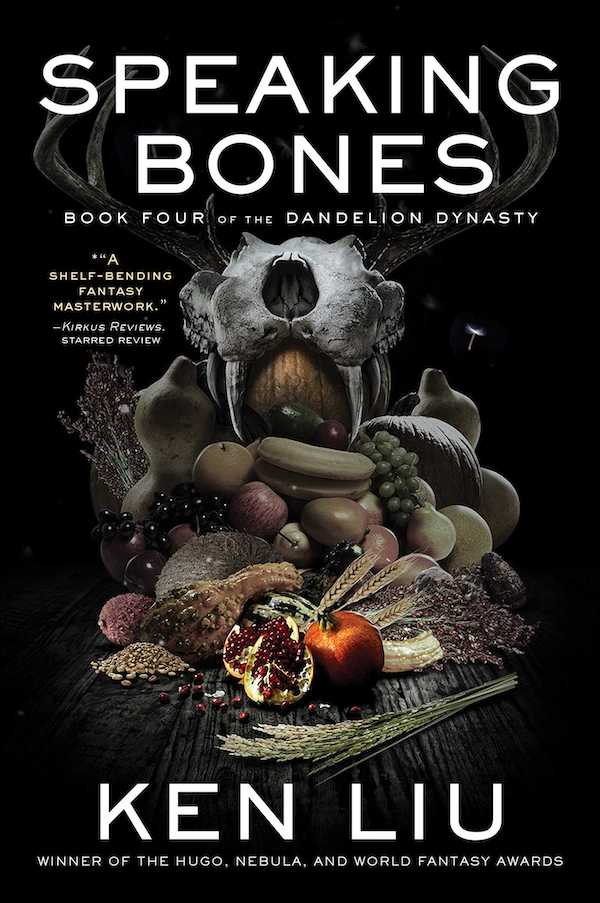 It's time to celebrate!
I'll be going on a mini book tour, and you can join me at the following venues, in person or virtually, to share in this special moment for the silkpunk world of Dara. Register for the events (if necessary) at the links below.
And that's it for this time.
Thank you, as always, for supporting my work. Without you, Dara would still only be an idea in my head, and the constitutive acts of its people mere fancy—but you, your imagination and love and joy and care for the world is what brings it to life and makes this work I do meaningful.
Until next time, I remain,
Your faithful author,
Ken