Pantheon, Dragons, robo-ken
Hi Everyone,
I hope this August is treating you as well as can be expected given the strange times we're living through. I have lots of news to share.
Pantheon
Cast
The AMC show based on the "Uploaded Intelligence" stories in The Hidden Girl and Other Stories has announced the full cast!
Pantheon, AMC's first hourlong animated primetime drama series has announced its full cast. Daniel Dae Kim (Hawaii Five-O), Katie Chang (The Bling Ring), Ron Livingston (Loudermilk),Chris Diamantopoulos (Silicon Valley), Raza Jaffrey (Homeland) and Scoot McNairy(Narcos: Mexico) are set as leads, along with Anika Noni Rose (Little Fires Everywhere), Grey Griffin (Star Wars Resistance), SungWon Cho(Anime Crimes Division), Kevin Durand (Ballers), Samuel Roukin(A Call To Spy) and Krystina Alabado (Broadway's Mean Girls). They join previously announced Taylor Schilling, Paul Dano, Rosemarie DeWitt and Aaron Eckhart in the series which hails from Turn creator/executive producer Craig Silverstein and AMC Studios.

"Ken's engaging and thought-provoking short stories pave the way for a deeply gripping series, and I couldn't ask for a greater group of talented voices to bring these complex characters to life," said Silverstein.
The series has already been picked up for two seasons. I love what Craig and the writers have done, and now we have a fantastic cast! And the animation from Titmouse will blow you away.
Can't. Wait.
"A Whisper of Blue" in
Book of Dragons
The Book of Dragons, an all-original anthology edited by Jonathan Strahan and published by Harper Voyager, came out on July 7. It includes works by R.F. Kuang, Kate Elliott, Amal El-Mohtar, Garth Nix, Peter S. Beagle, and many, many others. You've never seen dragons like these portrayals, I promise you.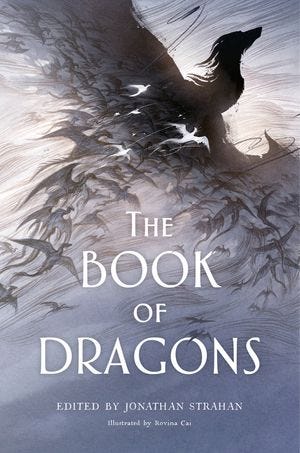 My own contribution is "A Whisper of Blue," which is set in a world in which dragons aren't just real, they form the basis for modern industrial civilization. Hero of Alexandria's aeolipile, as you'll find out, was powered by a little dragon that crawled into the bronze sphere and began to breathe fire in a panic, and Harvard didn't become Harvard without attracting a lot of dragons with Widener Library's mind-hoard. (If you know my story, "State Change," then you have a sense of this world's mood.)
Then, in the Commonwealth of Massachusetts and Maine, a small town is suddenly infected by lots and lots of tiny dragons, and a young woman has to figure out what to do about them…
It's a story about dragons, of course, but it's also about grief, Maxwell's Demon, the geopolitics of energy addiction, the opioid crisis, the importance of empathy, the complexities of pain, and ultimately, hope in the face of despair.
I hope you pick up a copy.
"Thoughts and Prayers" Selected for
Best American Science Fiction and Fantasy 2020
You can read "Thoughts and Prayers" on Slate.
Story about Stories
Finally, I've been doing quite a bit of writing the last few months. I finished three pieces of short fiction in June and July, and I'll be sharing news about them soon.
But how I wrote them is a little different from my past process: I've been experimenting with using a neural network called "robo_ken"— it's trained on my own work — and exploring what it means to collaborate with a machine.
I've been thinking about starting a subscriber-based publication on the intersection of art and technology. The story of how I ended up collaborating with "robo_ken" to write stories could be perfect for such a substack. Please let me know if this is something you'd want to read so I can gauge interest.
Thanks again for all your support, and please, stay safe!